When it comes to effective treatment patient engagement is the key. Patients who are willing to stay informed about their general state or any particular treatment are usually healthier and achieve better results in all kinds of therapy. Advanced information technologies can be an effective tool supporting such an engagement.
Engagement can be the key to unlock the door to the better healthcare system in which people concentrate on preventive measures rather than on the treatment of an existing issue. Likewise, chronic illnesses and related spending can be managed better. Consequently, engagement in eHealth can provide both patients and doctors with better tools for communication and treatment.
In this article, we take a look at examples of eHealth solutions focused on patient engagement. However, before that, let us take a look at some statistics.
83% of doctors are sure that an increased amount of patient-generated information from connected devices can significantly improve the quality of healthcare services and make care plans more personalized.

Ernst & Young
eHealth in numbers
According to Precedence Research, the global digital health market was valued at USD 270.60 billion in 2021 and is expected to reach over USD 1354.68 billion by 2030, growing at a CAGR 19.2% during the forecast period 2022 to 2030.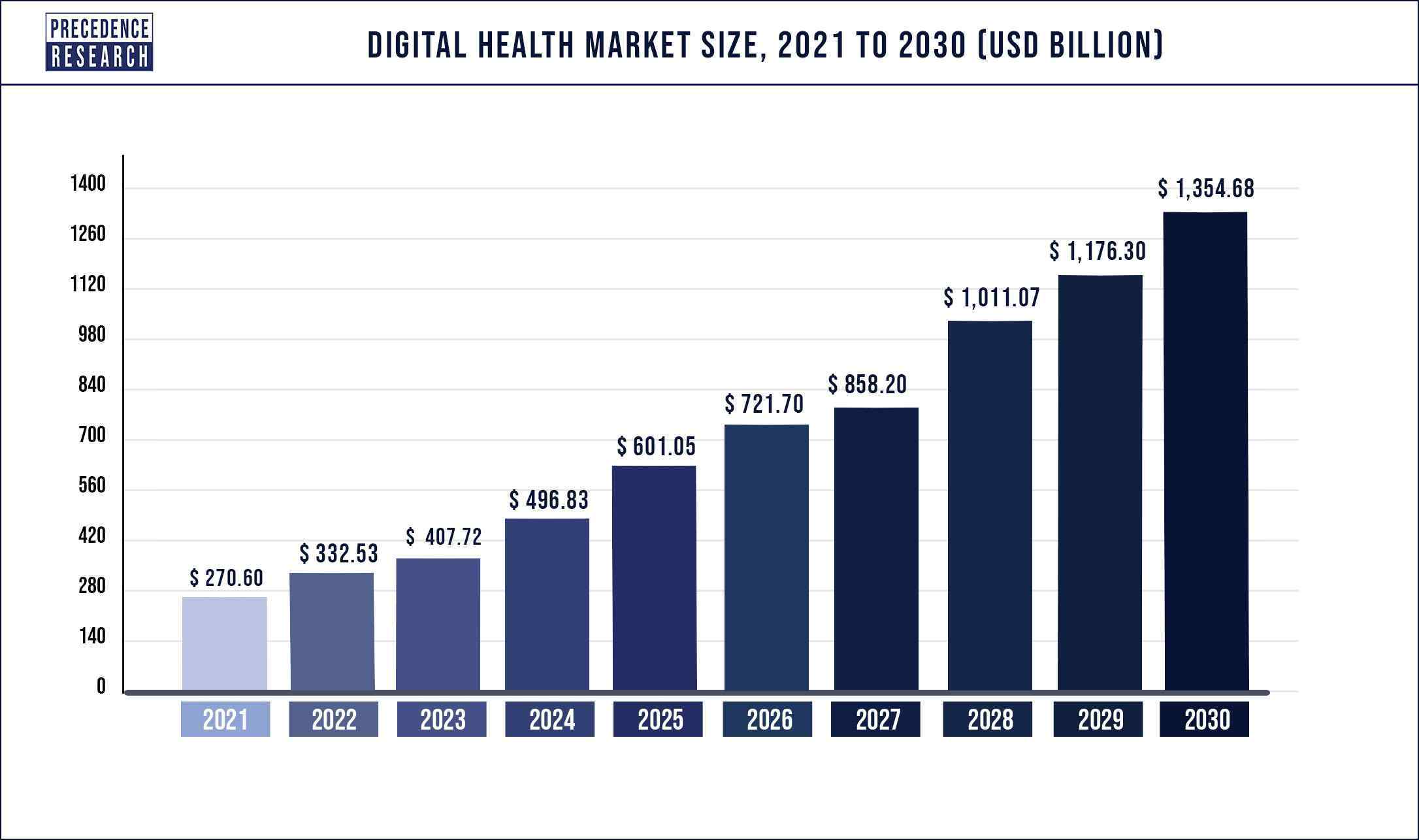 Healthcare technology in action
Fitbit, a popular wearable device for sports enthusiasts and professional athletes. With the recent purchase of Twine Health and strategic partnerships with companies like Dexcom, Fitbit is moving towards more serious healthcare, including the monitoring of sleep apnea.
Wellframe platform is a new digital solution that allows orthopedic surgeons to monitor their patients' health recovery process in real time without the necessity of a face-to-face visit. Patients are provided with a personalized, daily checklist which contains useful information as well as reminders to users so that they can prepare for an upcoming surgery and subsequent rehabilitation, and share messages with doctors.
Formativ Health in the US provides health systems with a platform that manages the patient experience and helps schedule and keep paid appointments.
Moalej is the web-based solution and mobile application created for Home Care Centers in Saudi Arabia enabling patients to enter their current medical data such as blood pressure, blood sugar level, and heart rate into the system in order to self-monitor the state of their health and help doctors to reduce the amount of documentation related work.
Wellpepper platform is a clinically-validated patient engagement platform for people with chronic or acute conditions. The system enables patients to follow up on their doctor's instructions and improve treatment outcomes as well as lower possibilities and costs in case of readmission.
The fact is that patients think they need much more engagement opportunities than just booking a visit. That's why we have to dream more ambitiously and implement effective solutions to improve access to treatment and preventive healthcare. It's all about access to health information, healthcare professionals, and pricing. Luckily, innovations are undoubtedly coming to streamline the patient experience.